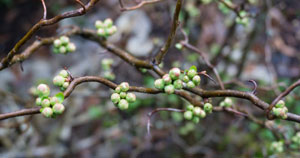 Here is a pic of our first attempt at growing garlic that we planted last fall. We've been wanting to get some garlic started for a while now and was excited to see it finally come up. The bed needs to be weeded some soon and then I will probably apply another layer of staw mulch.
Here is our strawberry bed that we started a few years ago. Last years strawberries were looking promising until the deer found them and chomped them down.  We were still able to harvest some but probably nowhere near as what we would have had. Above you can see the mesh net over the bed in an attempt to keep the deer out of the bed.
Close-up of emerging strawberries.
Upcoming projects:
- Transplant gooseberry to an area under fruit trees – makings of a future forest garden area
- potato experiment – planting 71/2 pounds of seed potatoes from Seed Savers Exchange in my established beds by burying into soil and continually adding straw as needed vs. planting a 50 pound bag of seed potatoes ($15) from Rural King using the newspaper on top of sod and straw method (lasagna garden method)
- start tomatoes, peppers, and a bunch of other stuff from seed
- collect, shred, and bag leaves from last fall for mulch
Raising Chickens 2.0
For those interested in raising chickens check out the article Raising Chickens 2.0 by Paul Wheaton.  Check out his permaculture forum and his site richsoil.com for some excellent insight and discussion into permaculture concepts.